When I first got married I only knew how to make spaghetti.
I figured that was just fine because my husband loves eating out. Then he moved us 1200 miles away from Dallas to the smallest town you've ever seen or ever thought about seeing. We have like 2 restaurants. I wouldn't even call them restaurants, they're more like diners. There's only so much bacon, eggs & burgers that a girl can stand. I had to learn how to cook and fast! I started watching a lot of cooking shows on tv and online, reading blogs about cooking, and texting my poor mother incessantly with questions.
One of the things that surprised me in my cooking endeavors is how fun it is to play with all of the different kitchen gadgets, tools, and appliances. Thank goodness for the wedding registry! I also started collecting aprons because if I'm going to be in that kitchen cooking for hours, I want to look darn cute doing it and have loads of fun.
It's important to have as much fun in the kitchen as possible, right?
Here's my favorite 25 items that make kitchen dwelling
a pretty cool pastime.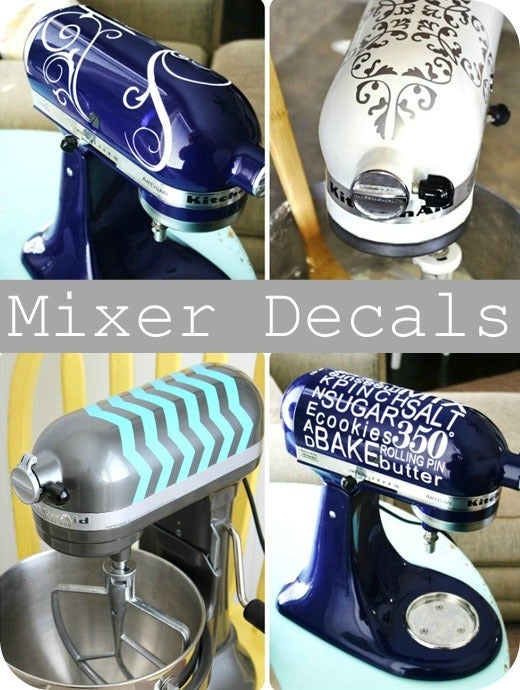 Kitchen Stand Mixer Decals
Create your own out of fabric here.
Kuhn Rikon Colori Art Paring Knife
Roll-And-Store Cookie Cutters Pin
No time to keep scrolling?
No problem.
I've pinned all 25 & more here:
Back to it.
Magic Wand Salt and Pepper Shakers
Black & White Chevron Placemat
Crustache Sandwich & Cookie Cutter

I "Like" Your Kitchen Glove Kitchen Glove
Vintage Pyrex
Fruit Salad Cutting Board
Wild Flower Measuring Spoons